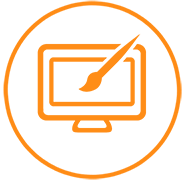 Website Designing
We are leaders in any type of website designing and offers sound web designing solutions in India.

User Experience Design
Ensuring people feel confident using your website / application; everything works in the way they expect it to. Our work can involve a variety of tools and techniques although a project will almost always involve a series of workshops and individual user testing sessions.
Project Management
Our Project Management team are solely focused on delivering web and development projects. That means that they're adept at running technical meetings alongside the creative process. Above all they manage to be friendly and likeable while still delivering on time and budget.
Quality Assurance
This is a service that forms part of any project we run, everything is checked thoroughly before it goes out. We look for issues with accessibility, code quality and we'll raise any usability concerns that come out of the review.
Content management system also known as CMS software is an application that helps manage the content of a website. Once a CMS is integrated to a website, it provides various users with different permission levels to update or edit website content thus reducing the complexity of work. The complexity of work involved in a website that has Articles, Blogs, Press Releases, Store, and Events can be simplified by having content management solution.
We have the experience of working with the various content management systems or CMS software like WordPress  and Magento.
However, sometimes, there may come a time when these off the shelf Content Management Systems do not work. This is when we can help you by custom building a CMS designed to suit specific needs thus eliminating features or components that are of no use to your organization.
U-SAT WEB TECHNOLOGIES understands that every organization has different requirements so it tries to provide the best possible content management system (CMS) or content management solution that saves money and helps manage your website in an easy way.