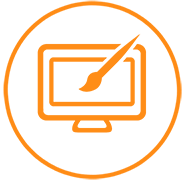 Website Designing
We are leaders in any type of website designing and offers sound web designing solutions in India.

Top Quality Website Development Services
U-SAT WEB TECHNOLOGIES is one of leading web development Services Company offering its offshore services across the world. We are passionate about the web development and our creative web developers strive to convert your ideas into reality. We are committed to produce high quality business solutions. Experience of working in various domains empowers them to better understand our clients.
Technologies:
A long list of web development technologies is there using which you can develop your website. It is important to make use of best technology according to your needs. U-SAT Web developers firstly understand your needs and then figure out which technology will be the best fitted to your website.
U-SAT developers are expert in Web2.0, PHP/MySQL,  Zend Framework, HTML5, CSS3, WordPress and  Magento. We have been working on these technologies since many years. We mix up our Passion and knowledge to give quality services. Hire us for Website Application Development Company.